Of Knights and Castles – A Coin Dedicated to Kaunas Castle in Lithuania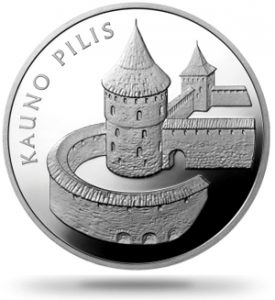 I don't know about you, but I've always loved tales about knights and castles.
Here in Pembrokeshire I'm blessed to be surrounded by beautiful, historic castles.
Indeed just the other day I took a stroll around Pembroke castle, which offers commanding views over the River Cleddau and was built shortly after the Norman invasion of 1066 in 1093.
While on coin surfing duties, researching new posts for this blog, I stumbled across this beautiful 50 Litas proof, designed by Giedrius Paulauskis for the Lithuanian Mint.
Researching the history of the mint, it seems they have been minting half groats and groats since the reign of Grand Duke Algirdas in 1345.
The obverse of the coin is dedicated to the newly restored Kaunas castle.
The reverse offers a fetching depiction of the coat of arms of Lithuania, a warrior riding a War Horse, wielding a sword and shield which you can see in the picture to the left.
Now that they've popped up on my coin radar, I'll be keeping my beady eye on this mint, as they have a number of interesting releases that I'd like to share here in the near future.