Will the Somali Elephant Coin Cause a Silver Stampede?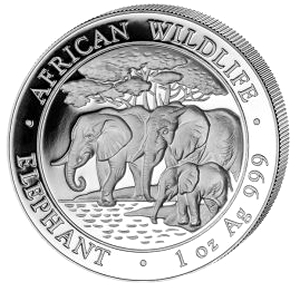 I'm often looking for bullion bargains online, and frankly Atkinson's the Jewellers have some of the cheapest prices around in the UK.
Indeed, right now they have some 1oz Surinames going for £20.27 including VAT which I think is very reasonable.
If you are just looking to increase your silver stack, a cheap and cheerful 1oz coin like the 2013 Suriname may well suffice.
However, in my opinion they are not the most attractive coin in Atkinson's shop window.
Indeed, my eye was drawn instead to this Somali Elephant offering, currently available for £20.99.
They were minted in Bavaria, but have found their way to Atkinson's showroom in Sutton Coldfield.
From Somalia, to Bavaria to Birmingham – what a journey.
Check out Atkinson's yourself, they have a nice selection of stock and you may well find one of their special offers agreeable to both eye and wallet.