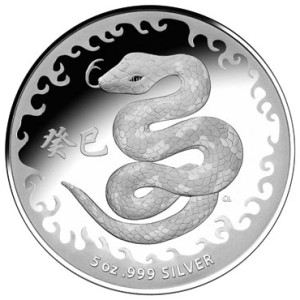 2013 is the year of the snake. So I decided to go hunting for some silver proof coins depicting my notable Chinese zodiac sign. I didn't have to hunt too far, as the Royal Australian Mint has some beautiful coins and accompanying cases, to commemorate 2013 as the year of the snake.
When it comes to Australian coins, I'm a big fan of the design work from the Perth Mint. However, The Royal Australian Mint did a great job with the Year of the Snake coins for 2013. In this post I'll look at three proof issues: the 1oz silver snake with a face value of 1$, the 5 oz silver snake coin with a face value of $10, and the 11.66g $1 silver proof coin.
The 1 oz and 5 oz proof coins are essentially the same design, except for the obvious size and weight difference. They are part of the Prestige Lunar Series. The 1oz coin is 40mm in diameter, with a $1 denomination, and a mintage of 10,000. It retails for $88 AUD. The 5oz coin is 65mm in diameter, with a $10 denomination, and a mintage of 5000. The 5 oz coin will set you back $357.50 AUD. The prices quoted are for international orders, so Australian residents can get the coins at a cheaper price.
The 1 oz coin comes displayed in a stunning blue case, and the 5 oz coin in a rich red case. These cases are just as beautiful to look at as the coins themselves.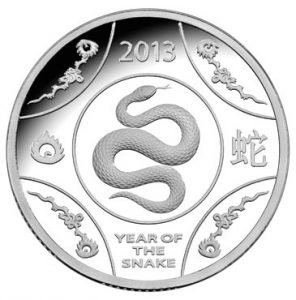 The 11.66g $1 Fine Silver Proof Coin, is a different design than its 1 oz and 5 oz counterparts. It has a different snake motif, and is embossed with "2013" at the top of the coin, and "Year of the Snake" at the bottom. This coin costs $55.00 AUD for international orders, and $50.00 AUD for Australian residents. The coin is part of the Lunar Series.
For more info on these coins, or to order directly from the Royal Australian Mint, you can visit these pages:
No doubt these coins will sell out quickly, with the popularity of the Chinese zodiac!