A Pioneering Journey Remembered – The Crossing of the Blue Mountains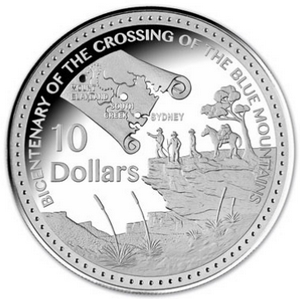 I recall watching an entertaining old black and white video of Laurel and Hardy singing a duet "In the Blue Ridge Mountains of Virginia".
This is what I was reminded of on hearing about the "Crossing of the Blue Mountains" coin from the Royal Australian Mint, although I have just been reminded that Laurel and Hardy's mountains are located in the USA not the land of Oz.
This is the 2nd time the Royal Australian Mint has popped up on my bullion radar, you may recall a couple of weeks ago I also had a peek at the proof Kangaroo, also from this mint.
This coin celebrates the expedition of three pioneering adventurers, who managed to chart a passage to the western plains of New South Wales through the imposing Blue Mountains.
The plains beyond the mountains was fertile and rich in coal and shale, making the dangerous journey profitable if it could be undertaken successfully.
On their return the governor of Sydney gifted these pioneers 1000 acres of land each as a reward for their endeavours, which resulted in the opening up of grazing lands of inland New South Wales to the settlers.
This really is a nice looking coin about the bicentenary crossing, and with a mintage of only 5000, may well sell out quickly.
Thankfully this time you won't have to cross a mountain range to secure one, a simple trip to the post office should suffice.