About the American Eagle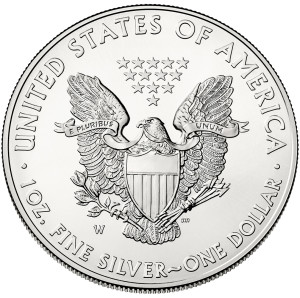 One of the most recognized and sought after coins by international collectors is the American Silver Eagle. With its iconic eagle on the back face, and walking liberty on the front, the coin is easily distinguished among the coins of other nations. American Eagles come in gold, platinum, and silver issues.
They are known for their purity, refinement and detail, and as an international bullion standard. The 2013 Silver American Eagle is a 99.9% pure silver, 1 troy oz. proof coin, with a denomination of $1 USD – though they are actually worth the price of a silver troy ounce. The Silver Eagle is 1.58 inches in diameter, with a thickness of .117 inches, and weight of 31.1 grams. American Eagles in the silver category do not have a mintage limit, and are usually produced until demand is met.
Here is the description of the American Eagle design, from the US Mint website:
The obverse design features Adolph A. Weinman's walking Liberty striding confidently toward the sunrise, draped in the strength of the Stars and Stripes, carrying branches of laurel and oak in her arms to symbolize both civil and military glory.

The reverse design, by former United States Mint Sculptor-Engraver John Mercanti, features a striking heraldic eagle with shield, olive branch in the right talon and arrows in the left.
It is the reverse design by John Mercanti, the iconic American eagle that most investors recognize on this coin – hence, the American Eagle the nickname was coined. This eagle design was adopted by the mint in 1986. The front design of the walking liberty was introduced to the coin in 1916, and has remained in place since.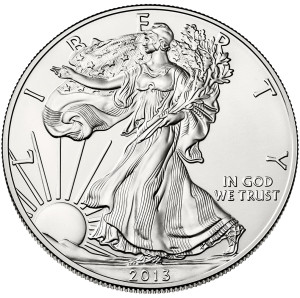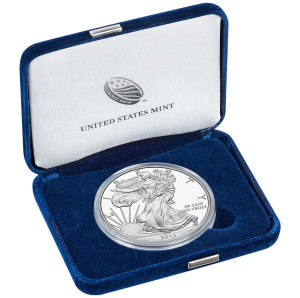 (All images courtesy of the US Mint website)
The Effect of the Financial Crisis on Availability
One of the reasons investors purchase bullion coins, as well as gold and silver bullion, is as a hedge against economic uncertainty. That became apparent during the 2008 to 2010 Financial Crisis, when demand for American Silver Eagles exceeded supply:
As a result of the global recession, the demand from investors for bullion coins as a hedge against inflation and economic downturn surged. This increased demand began to affect the availability of American Silver Eagle bullion coins in February 2008 when sales to authorized dealers were suspended temporarily. In March 2008, sales increased nine-fold from the month before (from 200,000 to 1,855,000). In April 2008, the United States Mint began an allocation program, effectively rationing Silver Eagle bullion coins to authorized dealers on a weekly basis due to "unprecedented demand. (Wikipedia, American Silver Eagle, http://en.wikipedia.org/wiki/American_Silver_Eagle).
The American Silver Eagle is not only a standard for any serious coin collector, but also a hedge against economic uncertainty and times of crisis. Canadian coin collectors, can also get the American Silver Eagle through The Fabulous 15 (2013) series, we featured last week.