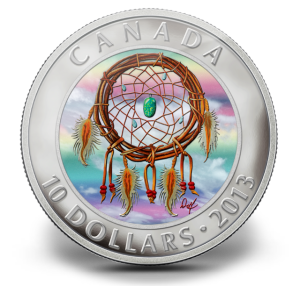 Here is another stunning coloured silver proof coin from the Royal Canadian Mint! Previously we featured the beautiful Canadian Tiger Swallowtail, and the dazzling Twelve Spotted Skimmer. Coloured silver proof coins aren't for everyone. However, If you like the blend of colour with sterling silver, as well as the hologram aspect of the Skimmer, then you'll love the new Dreamcatcher silver proof coin from the Royal Canadian Mint.
This coin embodies two coloured technologies, the coloured Dreamcatcher, by artist Darlene Gait, overlaid a hologram sky image. Combined with the pure silver coin as a backdrop, it's sure to be a dazzling colour display.
The Dreamcatcher has a mintage of only 10,000 coins. It is a 99.9% pure silver proof finish, weighs 15.87g, and is 34mm in diameter with a serrated edge. The Dreamcatcher has a face value of 10 dollars.
The Dreamcatcher is an iconic symbol of First Nations culture, and the mint has done an exceptional job with the production of this coin. Here is the write-up from the Royal Canadian Mint webpage:
"The dreamcatcher is an iconic identifying symbol of First Nations culture. Variations of dreamcatchers are representative of cultures across each Canadian province, but they all have the same intention: to trap bad dreams and thoughts, and let good dreams pass through the hole at the web's centre, into the mind of the dreamer."

"Composed of an external bent wood ring strung with an interior web of golden sinew, the dreamcatcher features bright blue quartz stones and a central opal; it bottom strung with rawhide ribbons decorated with red beads, and four orange and white wild bird feathers."
This Dreamcatcher is not available in stores and ships on July 7th, 2013, with a limit of one per household. Order yours today from the Royal Canadian Mint.