Black Diamonds, Spiny Anteaters and the MCI Mint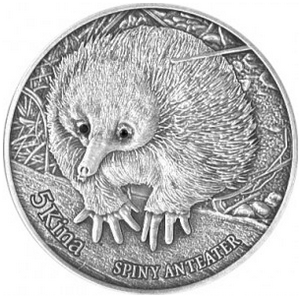 I've featured a lot of glossy proofs over the last few weeks, so here's a 1 oz release for those who prefer a faded antique finish.
The Spiny Anteater silver coin hails from the MCI mint in Germany, a company I have not come across before.
On the reverse of the coin is an etching of an egg-laying mammal known as the spiny anteater.
This cute creature's natural habitat can be found in Australia and Papua New Guinea.
You may also find one or two hibernating in the money pouches and coin display cases of European collectors.
Only 1000 of these are currently in circulation, I think it's a unique looking coin and look forward to adding one to my collection.
I'll be keeping a watchful eye on the MCI-mint.com, a visit to their Website is recommended as they really have minted some original coins.