Life of the Turtle – A Legendary Pobjoy Mint Proof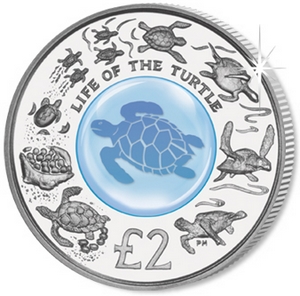 Well after a few lovely sunny days, the weather has taken a distinct turn for the worse here in Broad Haven, Pembrokeshire.
While it may be raining and blowing a gale outside, thankfully the earl grey tea is flowing and the silver coins are gleaming inside.
The proof coin to the left is the Life of the Turtle fresh from the award winning Pobjoy Mint, a company with a pedigree for minting quality coins since Robin Hood was in short trousers.
This is the 2nd coin with a design inspired by the turtle I've featured on this blog, the first was the gilded Hawksbill turtle from the New Zealand mint I looked at a couple of weeks back.
This Pobjoy release has an attractive aqua coloured crystal set into the middle of the coin, and has been struck 4 times to ensure the legendary Pobjoy shiny proof finish.
The etching around the coin which encircles the crystal, reveals the epic journey the Indian ocean sea turtle undertakes from egg to adult.
If you fancy adding one of these to your collection, it will currently set you back around £83.
They can be purchased directly from the Pobjoymint.com, their official site.