All that Glitters is not Gold and Not All Coins Are Round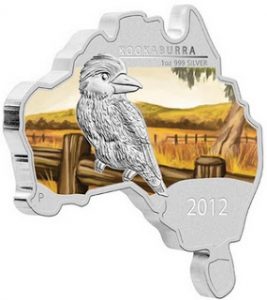 After breakfast and a strenuous round of Actua 3 golf on the playstation that comes free with my rented cottage, I've been reflecting on the fact that not all coins are round.
Indeed, some are oval such as the Koban, a Japanese gold coin from the Edo period of feudal Japan, some square like this Australian seasons coin, and some heptagonal, like the British 20p and 50p coins.
However the coin featured in this post is one of the most unusual I've ever seen. I'm talking about the Perth Mint's Australian kookaburra map shaped coin.
This series was released back in 2012 and is currently as rare as hen's teeth, as it quickly sold out after the first mintage of only 6000.
The coin features 1 troy oz of silver, and was designed by Ing Ing Jong, one of the top graphic designers currently working for the Perth Mint in Australia.
It has been called a unique minting marvel, looking at the innovative design, I can see why.
Although the Perth Mint have no stock left, you may be able to find one from an independent dealer. Failing that, I just checked on ebay and can see a couple of these map shaped proofs listed there. Watch out for any dodgy dealers, only purchase from those on ebay with high feedback ratings.
Anyway, I'm off to work on my virtual golf swing, happy bidding!