St Dogmael's Duck Pond Memories? The Mallard Coin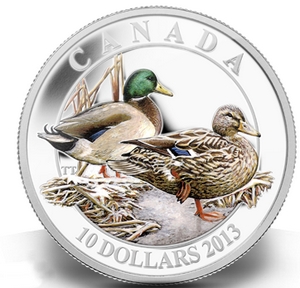 My favorite duck pond in the whole of the UK resides in Wales, St Dogmaels Ceredigion to be exact.
Why are you talking about duck ponds on a silver coin blog I hear you cry! Well I was looking through the inventory of the Royal Canadian Mint and came across this gorgeous Mallard proof coin.
Designed by Trevor Tennant and Susanna Blunt, it only has a mintage of 10,000 so I expect these will sell out quickly.
Here's a description of the Mallard from the Mint:
 "…..features a mallard pair walking together along the snow-dusted shore of a Canadian waterway in late autumn, preparing themselves, perhaps, for the first leg of their migratory journey to warmer climes….."
The coin has a face value of $10 and really is a beautiful release, that reminds me of autumn and winter evenings feeding the ducks in St Dogmaels, West Wales.